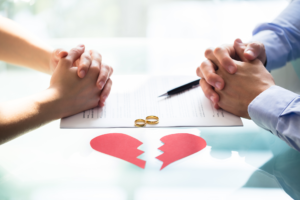 The announcement that Bill and Melinda Gates were divorcing after a 27-year marriage started a new conversation around why long-term marriages are ending. Other high-profile couples like former Vice President Al Gore and Tipper divorced after 40 years, and- though not married- actors Danny DeVito and Rhea Perlman separated after 30 years together.
Add to these Hugh Jackman and his wife after a 27-year marriage, Dan Aykroyd and Donna Dixon after being together for 39 years, and Billy Ray and Tish Cyrus after a 28 year marriage.
Midlife Divorce Rates
According to an article in AARP, midlife breakups are much more common than a generation ago. According to Susan L. Brown, co-director of the National Center for Family and Marriage Research at Bowling Green State University in Ohio, "Older adults are much less likely to remain in what she calls 'empty shell marriages.' Marriage now is more about self-fulfillment and personal happiness."
The Reasons Why
Some of the main culprits that lead to divorce after a long union are:
1. Infidelity
After a 20-year marriage, I found out my spouse was having an affair. I was devastated, hurt, angry and scared. This is a scenario I see often in my divorce coaching and mediation practice, and it is one of the most heartbreaking and difficult times for a couple in a long-term relationship. I don't know the statistics on how often this leads to divorce, but my guess is it's high.
2. Empty Nest
Second, when children are grown, some couples realize that they have been living separate lives for a long time. The focus has been on raising children rather than on connecting with one another. It doesn't necessarily mean that the marriage was a mistake – it can be that sometimes you just move in different directions and have new priorities that are no longer shared with a partner.
3. Financial issues
Additionally, in a survey by the American Psychological Association in 2020 "Stress in America" survey, 64% of adults said money is a significant source of stress in their lives. Issues can arise when one person is the spender and money equals "freedom" and the other person is a saver and money represents "security." Having one person who has been a stay-at-home parent can create conflict when the kids are grown. The financial supporter may want that parent to return to the workforce now. These two different perspectives can lead to resentment and conflict that cannot be resolved.
4. Lack of Communication
Finally, there's poor communication, and then there's harmful communication. The Gottman Institute, which has studied couples' behavior since the mid-1990s, uses the Four Horsemen of the Apocalypse as a metaphor for the communication styles that, according to the institute's research, can predict the end of a relationship. The four styles are criticism, contempt (the number one predictor of divorce), defensiveness, and stonewalling. "Contempt severs us from our pack," institute cofounder Julie Gottman has said. "It leads us to cut ourselves off from others, pull inwards and end up alone."
Dividing To New Pathways
There is not as big of a stigma to leave a long-term marriage. Living longer, leaving after the kids are grown, and wanting to try new things are all reasons that may be valid. Older couples are recognizing that life is short and precious, and both may actually decide they want to work on things or decide that it's better to part ways.
Otherwise, they may be seeing their life in chapters and are ready for the next chapter – maybe start a new career, embark on a new adventure, or pursue a new relationship. They may have lived for decades in loneliness, isolation and loveless marriages, and there may be a desire for something more in life.
Although it is hard to be in the celebrity spotlight when separating or divorcing, many couples struggle with making this decision as it affects families and adult children tremendously. As private as the matter might be, there are many who will struggle with guilt and sadness as their circle of friends and family express their thoughts and feelings about why this is happening this late in life.
This is not an easy decision to make and having time and the ability to process all of the emotions and managing the consequences is critical.
Receiving guidance and support from a Certified Divorce Coach who may have had this very same experience can be so helpful. Please reach out if you are struggling and would like to learn ways to best manage this transition. You don't need to do this alone.